The long track clap blade will give you years of enjoyment for ice skating on a 400m track on a frozen lake or river. Get a free quotation.
Features of long track skate frame
Corrosion resistant
Highhardness
Wear-resisting
Durable

Specification of long track skate frame
* Aluminum-7003 Bimetaal PMstaal 64HRc
* size:15.0"15.5"16.0"16.5"17.0"17.5"18.0"
| | |
| --- | --- |
| Height: | 40mm |
| Tubular material : | 7000 aluminum series |
| Skate steel: | special steel 62 HRC |
| Thickness of skating steel : | 1.1 mm |
| Skating steel installation: | glued |
| Post-treatment:/Surface treatment: | grinding,polishing,post-edging/Anodzing/colorcoating |
| Feather: | Light, Medium, and Strong |
| Size : | 15 to 18 inches |
Precautions for using ice skates
1. When placing skates and entering and leaving the ice rink, the knifesleeve should be used to protect the blade, so as not to damage the blade. Donot use in the sand, uneven, cracked ice, after using the ice blade clean,coated with oil rust.
2. In order to prevent skates from being soaked by snow and ice foam, wipeglycerine before and after use, remember to wipe it.
Welcome to contact us for more information!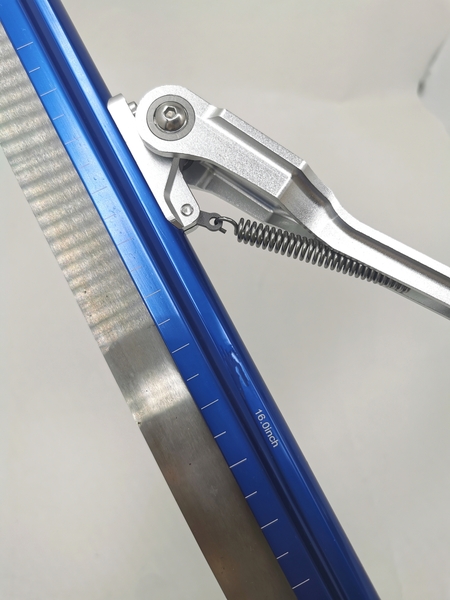 Maintenance of Long Track Skate Frame
1. When buying skates, you should choose moderate shoes with your feet.Tie your LACES and make your feet comfortable in your shoes.
2. When carrying skates, it is necessary to wear protective cover for theice blade. The front tip and back tail of the skates should not be verticallyaligned with the body.
3. Check whether the connection part is loose before use. If found, itmust be repaired before it can be used.
4, taxi, avoid collision with others, protect their own safety and thesafety of others.
5, speed skating skates in sliding, the body should lean forward, with theblade of the skates to push out the ice, after the knife, legs, feet and skatesinto a straight line; When turning, lean to the right and push the ice with theinside and outside edge of the skates.
6. In sliding, when the skates fall vertically after completing thejumping action, the skates first contact the ice at one third of the front tipand gradually extend backward.
7, when the hockey knife sliding, avoid using the knife holder to catchthe puck, to protect their own safety and prevent the knife holder cracking.
8. Children and teenagers need to slide with their parents.
You are welcome to contact us for business and we will do our best to offer you!